On May 18th, 1997, four anglers waited patiently for the next Lake Trout to strike one of their four downrigger rods. The anglers were fishing in 140 feet of water off the Calf Island shoal in the eastern end of Lake Ontario. Henderson Harbor was the base for the "Spring Classic" derby and these fishermen had come in hope of tangling with a Laker that would put them in the money.  An 18 pound Lake Trout was leading the division but skipper Scott Durant (Milky Way Charters) knew that the waters off Calf could hold a fish that would eclipse this mark. At 2.00pm on the last day of the tournament, Scott's son Mike noticed a subtle movement in the tip of a rigger rod. "Dad, there's a Laker working this rig!" he exclaimed just before he told the waiting angler to grab the rod and strike the fish. Big fish in deep, cold water sometimes pick at the troll and simply nibble instead of inhaling the trolled offering. Mike knew this, and with quick direction had his angler locked in battle with what he knew was a good Lake Trout. Scott and Mike traded places and did their best to keep their fisherman calm as the see-saw battle ensued. "It was a classic fight, These big trout are real transom diggers!" Scott said. After nearly 20 minutes, Scott could see the flash of a set of Silver/Blue Cowbells some 15 feet below the waters surface. He wasnot prepared however, for the sight of the fish that was swimming slowly behind them. Scott gave a quick set of orders, to insure that the fish would come to net. His angler raised the rod tip gently and Scott slid the nylon under the waiting fish. His immediate thought was that this fish would go 20lbs. After hanging the 38inch fish on his scale, he knew that it would be a contender for top honors. At 5.00pm, the fish sat alone atop the leader board with a weight of 24lbs. 13oz. A true testament to the effectiveness of cowbells on Lake Ontario's trophy Lake Trout population.
If your not familiar with using cowbells in your trolling pattern, then you are perhaps missing out on the hottest Lake Trout catching phenomenon since the Sutton #44. Water conditions in Lake Ontario are changing and so are the Lake Trout that are stocked in its waters. Zebra Mussels and clean water practices are leading to much clearer waters than anglers have ever been faced with. Baitfish (Alewives and Smelt) and the predators that feed on them (Lake Trout) are not found in traditional haunts. Successful anglers have learned to look for action in some unusual places. Deep water is a hot spot! Lake Trout such as the Seneca strain, have proven themselves to be one of the most prolific of all Laker species stocked in the lake. These fish are deep water spawners and have a tendency to locate (regardless of water temperature) in 80ft.-200ft. depths. This is dark, cold water and it takes special trolls to interest these sometimes lethargic fish.
The cowbell is nothing more than a trio of spinning blades affixed to a braided steel cable through the use of a series of clevises. A barrell swivel is then located on each end of the cable. One end is connected to the angler's line, while the other end contains the lure. The blades of the cowbell can be found in a myriad of colors, allowing the angler to experiment–constantly looking for what is most effective. I asked cowbell producer Randy Orbach to comment on how the blades were made and why he thought they were effective. Orbach's cowbells are made from aircraft aluminum making them light and durable. The blades are strung on 60lb. test cable and affixed with one piece clevises which will not bend or break through hard use. Orbach uses the blades in two different fashions.

Trolling the bottom:
In this technique, the downrigger ball is lowered until contact is made with bottom. It is important to do this in areas where the bottom is fairly uniform. This not only saves on tackle losses, but allows the angler to present his or her pattern to many more fish. As the ball bounces in the dirt, fish are disturbed. A sleepy Laker will sometimes rise to the disturbance and immediately see the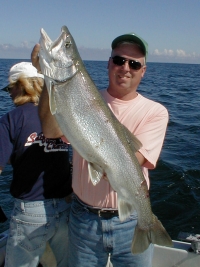 rotating blades of the cowbell. Orbach says "I believe that the blades look like other fish on the move (feeding)." Once the blades have passed, the vibrating plug is seen as an injured baitfish in distress. The Laker quickly takes advantage of this free morsel and the angler is hooked up.
Picking a productive lure to run behind the bells is relatively easy. Deep water Sculpin make up a great portion of the diet for bottom hugging trout. These tiny minnows resemble a small brown bullhead, and there swimming action can be likened to that of a polly wog! Consequently tiny floating plugs such as Yakima Wobble Trolls (Peanuts) or Luhr Jensen Fire Plugs are extremely productive. When peanuts are used, Orbach likes them in chartreuse and green glo patterns.
Suspended Trolling:
When cowbells are suspended, action can be fast and furious. Many anglers think that running the bells is just for days when trout are close to the bottom. Orbach likes to run his rigs on suspended fish that are in the 60ft-140ft range. He believes that the vibration of the spinning blades is a definite attractor to fish. When suspended in a higher water column, the angler should expect some light penetration. Reflection of sunlight can make the bells appear to be a baitfish school. In this instance the lure is simply the last minnow in line. Fish approaching from the rear will encounter the lure first. Combinations such as the Silver Lazer with Lazer Green
stripe are excellent choices. When sunlight hits this rig, anglers will see the iridescent colors that are emitted. Don't be afraid to run tiny spoon combinations behind the suspended rig. These fish in the higher levels are sometimes more active. Spoons can sometimes tolerate more speed than plugs and Orbach has successfully run his rigs at 2.5 knots for these active trout.
Lake Conditions Right for Deep Trolling!
Is a deep water denizen in your future? It could be if you are fishing Lake Ontario's Eastern end during May and June. This is Prime Time for some of the biggest Lake Trout you will find in the lower 48 states. It seems that throughout the years, species such as Brown Trout, Steelhead and Chinook Salmon have captured the press and the dreams of anglers plying these waters. It wasn't until the early 90's that fishermen from all walks of life began to make a pilgrimage to Lake Ontario for their annual encounter with the trophy Lakers that swim in it's waters.
In the mid to late 1980's, the New York State DEC (Department of Environmental Conservation) imposed a slot limit for Lake Trout that were caught in the waters of Lake Ontario. Today, the
slot resides at 25-30 inches. This means that any Lake Trout caught which is 25 inches or under may be kept. The fish that are 30 inches and over may also be kept. Those fish that fall between the two measurements must be released. Why must they be release? It seems that this length increment coincides with the first 3 to 5 productive spawning seasons in an adult Lake Trout's life. In other words fisherman are protecting a very important breeding group in the population. There was much controversy over this legislation when it initially occurred. Charter fishermen were concerned that if limits of fish were not boated and kept, that anglers would not return to utilize the resource. Others were concerned that there would be undue mortality among the fish that were released. Al Schiavone (Region 6 fisheries manager) feels that the slot limit on Lake Trout has had many positive impacts for the Lake Ontario angler. First of all Schiavone believes that by releasing the younger class fish, we are allowing more fish to reach trophy status. "The Slot limit is a big part of the reason we are catching such large fish." Schiavone says.
There is much biological research that goes into making the best decisions for the state of the lake. Some of these decisions have been good ones and some have been bad. It is however, very difficult to argue with the lake's awesome production of huge Lake Trout. I asked Schiavone about harvesting these big fish and how it might affect the fishery.
He explained that "An old fish is not an efficient spawner. Their egg viability is not as good." By protecting the fish that are in the slot, we are helping the best egg producers to survive. Schiavone also says that "the slot allows anglers to take a really big fish if they catch one." Currently the Lake Ontario record Lake Trout weighs in at over 38 pounds. While there is a large gap between this monster and the second biggest trout on record, it is just a matter of time before the Lake Trout that swim here reach these proportions. In lake wide derbies in 1997/1998, the top Lake Trout were either approaching or exceeded the 20 pound mark. This is impressive by anybody's standards and is a good illustration of what a world class fishery this really is. Schiavone remarked that, "In the contiguous U.S. it has to be the best Lake Trout fishery." "Where else are your chances as good to take a fish over 20lbs?" Brian Lantry (DEC Fisheries Biologist) and Schiavone both believe that anglers visiting Lake Ontario for Trophy Trout should find them in good numbers over the foreseeable future. This is great news for visiting anglers and for those who do business on or around the lake. While the story began with a 24lb.13oz Laker, it doesn't end there. On June 10, 1997 while filming a program for the nationally syndicated fishing series Rod & Reel , host Bill Saiff Jr. and cameraman George Haley filmed another giant. While the program was highlighting techniques for trophy trout, no one imagined that they would capture a 25lb.8oz. lunker on film!. The crew was fishing just south of Stoney Point Lighthouse in 148 ft. of water. The Laker struck the deepest rod in the pattern. This rigger was a mere six inches from bottom and a cowbell combination was the offering. The blades were chartreuse with a silver stripe and the lure was a chartreuse/green peanut 32 inches behind the blades. While the cameras rolled, the huge Laker was landed. The weight was recorded on a calibrated scale and the fish was released in hopes that a visiting angler may once again have the pleasure of seeing this fish. This program aired during the 1998 season of Rod & Reel and is an excellent example of what the eastern end of Lake Ontario has to offer.
Many Lake Trout topped the 20 lb. mark in 1997/1998 and the eastern end of Lake Ontario led the way in this production. Some anglers say that this phenomenal fishery is due to the unique bottom structure that is to be had in the eastern end. While this may or may not be true, one thing is for sure, biologists see the trend continuing through the next several years. Keep in mind that Lake Trout are a slow growing, long lived fish. The more age that we put on them, the bigger they will become. Visionary fishermen knew that this day would arrive, and it
finally has. The future is bright so if you want a Trophy Trout just hit the lake during May and June. When you get there, Don't forget to "Ring the Bells!"