Brown Trout
April – Pultneyville NY / April-June – Henderson Harbor NY

Examples of the Football Browns that have made this fishing legendary!
A Trophy Brown Trout Aboard the Saiff Charter #5
Judd Wagner (PA) with a big South Shore Brown!
Football Browns assault bait fish clouds along the shores of Lake Ontario just after
ice-out. From the middle of April until the middle of May we look for the warm water pockets that hold these elusive Browns. The Brown Trout's fighting determination and strange appearance make them legendary in our waters. When Browns are on the feed, they gorge themselves. —No wonder they look like footballs!
Each season in April, Saiff Charters offers a "Specialty" Brown Trout trip on the southern shore of Lake Ontario. Guests are invited to stay with us at our BROWN TROUT LODGE on the shores of Sodus Bay. One of our boats will fish from Pultneyville, NY during the month of April as we wait for ice out in Henderson Harbor, NY. This trip happens in advance of our normal fishing operation and gives angler's an exciting look at early spring fishing. The Browns above were taken while fishing on this specialty trip. Waters warm early on the southern shore of Lake Ontario and fishermen can expect to see Coho salmon as well as Steelhead while pursuing these Browns. This trip is highly recommended for veteran fishermen looking for an interesting spring diversion!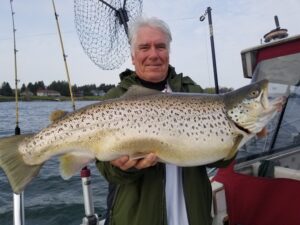 Meredith Helsby (FL) with a "Tank Brown" taken with Capt. Bill Saiff III from our Spring Brown Trout Lodge in Pultneyville, NY! Meredith has been fishing with the BSO Team for 40 years! Congratulations on a GREAT FISH!
Henderson Harbor-"Hot Spot" for Browns! May-July
The Henderson Harbor area is legendary for Big Browns and the months of May, June and July are a great time to target these fish! May and June are great months for Combo Fishing opportunities. While Brown Trout action is outstanding at this time-the back bays are also filled with Pike and Walleye. Why not book a 2-day event where Cold Water species and Warm Water species can be targeted in the same trip!