Walleye Fishing
May-June / August-September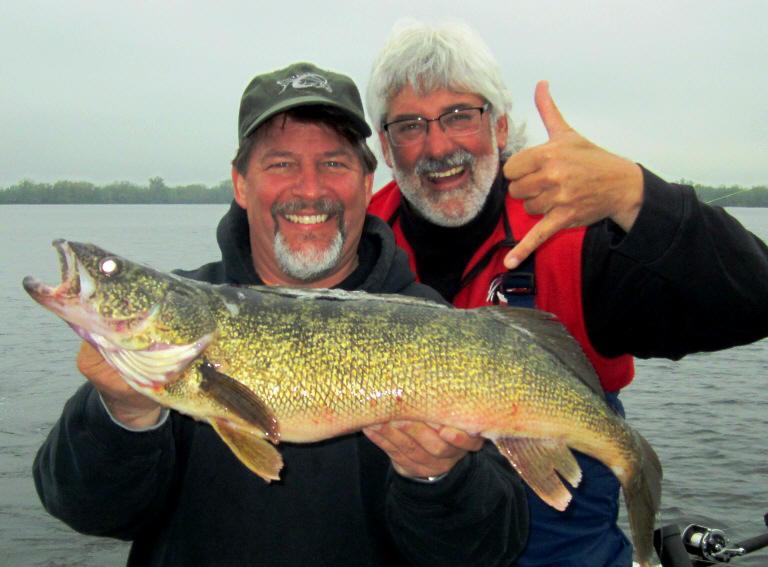 Capt. Bill Saiff III and Tom Rochette with a Guffin's Bay Walleye!
"The Best in the U.S."
Since 1990, Walleye fishing has been a highlight for our clients. The fish in our waters grow to tremendous proportions. Average weights fall between 8 and 12 pounds. This fishery has been featured numerous times on our Public Television Series "Rod & Reel"

Tournament Pros call this the best Trophy Walleye fishery in the U.S.!

The Saiff Charter Team was the 1st. Lake Ontario charter service to offer "Trophy Walleye" fishing! We continue to "push back the boundaries" by using SPOON TECHNIQUES to catch fish where others can't!

The "Master" Capt. Bill Saiff Jr. with the boys from GARMIN USA. A nice mess of Walleye and Northern Pike!

Capt's Dave Wright & Mike McCarthy showing why the Saiff Fleet is the ONLY group to fish Walleyes with! These two beauties were taken on an afternoon trip in Chaumont Bay.

Great "Eyes" like these are the target species but we have other great warm water opportunities that go along with it.  In May, you can bet on having some dandy Northern Pike or Pickerel hit the Walleye baits. In August, many of the shoals we fish hold some really big Smallmouth Bass!

Here is a great example of Bass and Pickerel that were all taken while fishing for Walleye!

In the spring of the year it's not uncommon to catch and release, several warm and cold water species!