Lake Trout
May through September

Watch Video of Lake Trout Above
Capt.B3 and Larry Untiet (NH) with a 20lb. Laker!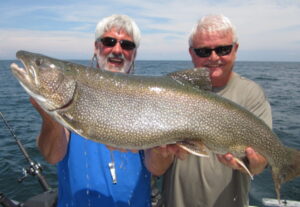 The Lake Trout is the staple cold water species in Lake Ontario. The eastern basin (our home waters) has the best concentration of structure for holding the biggest Lakers. These fish can be taken using surface techniques or by deep trolling. The biggest fish are generally taken deeper and hooking one that exceeds 20 lbs. is a real possibility.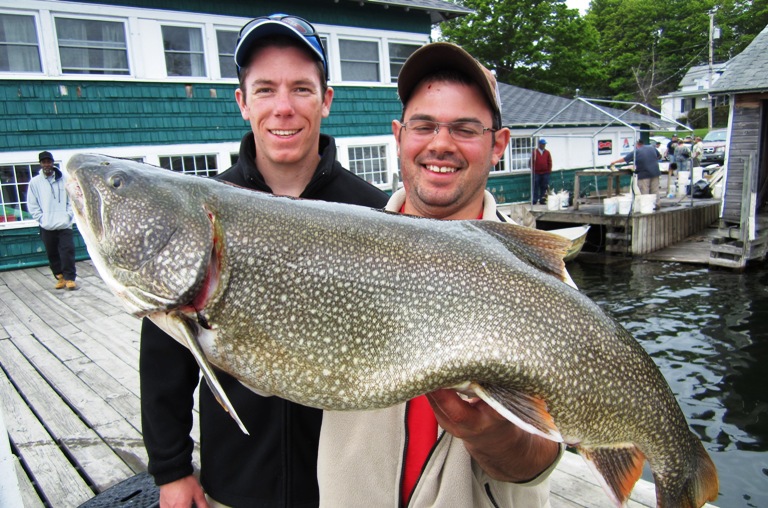 Capt. Dave Zangari and Matt Kogut with a Jumbo Laker taken on Cowbells with Spin N' Glo's
30 lb. 4 oz. Trophy Fish
Current fishing success is the mark of a great fishing team. The Saiff Fleet consistently sets the mark for trophy fish in Lake Ontario's eastern basin. Above is a "HUGE" Laker taken on July 22nd, 2003′. It was taken while entertaining one of our corporate clients. Big Lake Trout abound in late July and early August. This fish came aboard the Saiff Charter #4.
Two days later a 26lb. 8oz. trophy was taken aboard the same boat in the same general area!