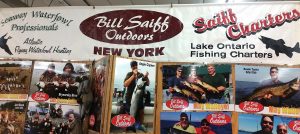 January, February and March are the prime booking months for both hunting and fishing!  These are the months when the majority of the industry's Sports Shows take place.  This is also the time when customers are vying for position in the booking calendar.  Now is the time to get the jump on the rest of the market.  Our calendars are already built with repeat clients and we can immediately look for the best dates.   Here are some highlights and some ideas that we suggest for 2019′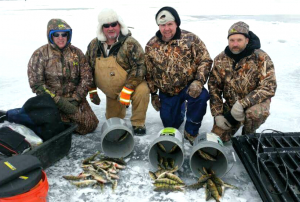 (Ice Fishing)
Ice Fishing is starting within the next couple of weeks.  Early reports have limited ice forming on sheltered regions of the St. Lawrence River and Black Lake.  The team at BSO specializes in Yellow Perch fishing but we also know where the big Pike and Pickerel hang out.  Nobody knows the back bays of Eastern Lake Ontario better than the team at BSO.  We have fished this region all of our lives and have access to the very best fishing in this entire region.  This is important because it gets our customers on the ice safely, quickly and into the BEST fishing.  This is a great trip if you are a novice or an experienced fisherman.  We supply all of the necessary gear so anglers need only bring their warm clothes and waterproof boots.  Perch, Pike, Pickerel and Walleye all represent excellent table fare and the action on these fish is both fun and exciting……….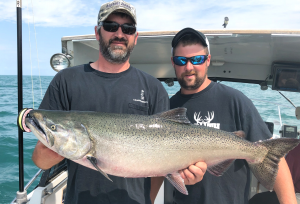 (Open Water Fishing)
In 2018′ we saw some of the best Chinook Salmon fishing in the history of Lake Ontario Sport Fishing!  These are bold words but words that are based in fact!!!  Last year's Salmon populations were bolstered by nearly 49% natural spawning recruitment.  These numbers of naturally spawned fish supplemented stocked numbers and the population blew up!  Vast numbers of Kings were taken throughout Lake Ontario but the Eastern Basin was a particularly good "Hot Spot".  The BSO Team rolled video footage on many of our outings and our instructional videos (YouTube-Bill Saiff Outdoors) kept anglers catching more fish.  Our team's Spoon, Flasher and Bait techniques are legendary in Lake Ontario fishing.
King Salmon were the buzz in 2018′ but rest assured the other fish species were there in good numbers too……  Giant Lake Trout and Brown Trout were especially good in 2018′ and the team also took some of the best Northern Pike in the history of the organization.  Placing a call to us in January gives us plenty of time to explore all of the possible fishing options.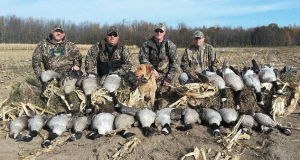 (Early Season Canada Geese)
Warm conditions punctuated our September hunting.  Hot temperatures can spell trouble for the duck and goose hunter.  Regardless, the team at BSO was still able to harvest 1435 Canada Geese during the month of September.  We did this by scouting thousands of miles of great agricultural property.  You will find few individuals in this industry that work harder than our guides and scouts.  16 and 18 hour days can be the norm at this time of year as we cover just under 70,000 acres of agricultural ground in 3 counties.   Resident populations of Canada Geese are strong and this represents a phenomenal opportunity for the travelling sportsman.  Hunting days are at a premium for this hunt so its imperative that you contact us early to secure your dates.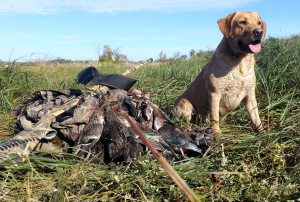 (Duck Hunting)
Whether its a back country hunt or a hunt on open water, the team at BSO knows where the best stores of duck are found.  These hunts are punctuated by great calling and superior dog work.  The photo above shows the "Mighty Comet" with a pile of Green Winged Teal and Wood Ducks taken from one of our back country holes.  We spend endless hours building sheet water ponds near quality duck habitat, preparing blinds and placing Wood Duck boxes.  This is done to enhance habitat and grow the maximum numbers of ducks.  When our hunters arrive, they will hear exceptional calling and see some of the best dog work in the industry.  The BSO Team works diligently throughout the off season to make sure that it's Retrievers are in peak condition.  We are currently training a new dog "AJAX" that is showing great promise and we hope to highlight him on some limited hunts in 2019′
In 2019′ explore all of the different sporting opportunities that BSO has to offer.  Pick a venue that you like the best and we will help tailor the trip to suit your needs.  If you like to hunt and fish, consider becoming one of our "All Season" sportsmen.  We have plenty of clients that spend time throughout all 4 seasons hunting and fishing with our team.  Remember:  we also operate  the WESTVIEW LODGE in Henderson Harbor, NY so booking a trip with us really is "One Stop Shopping"!  Our full service restaurant, bar and hotel makes it extremely convenient for anyone coming to stay with us.  Call us this month at 315-771-3514 and we will help you set up your next sporting adventure!