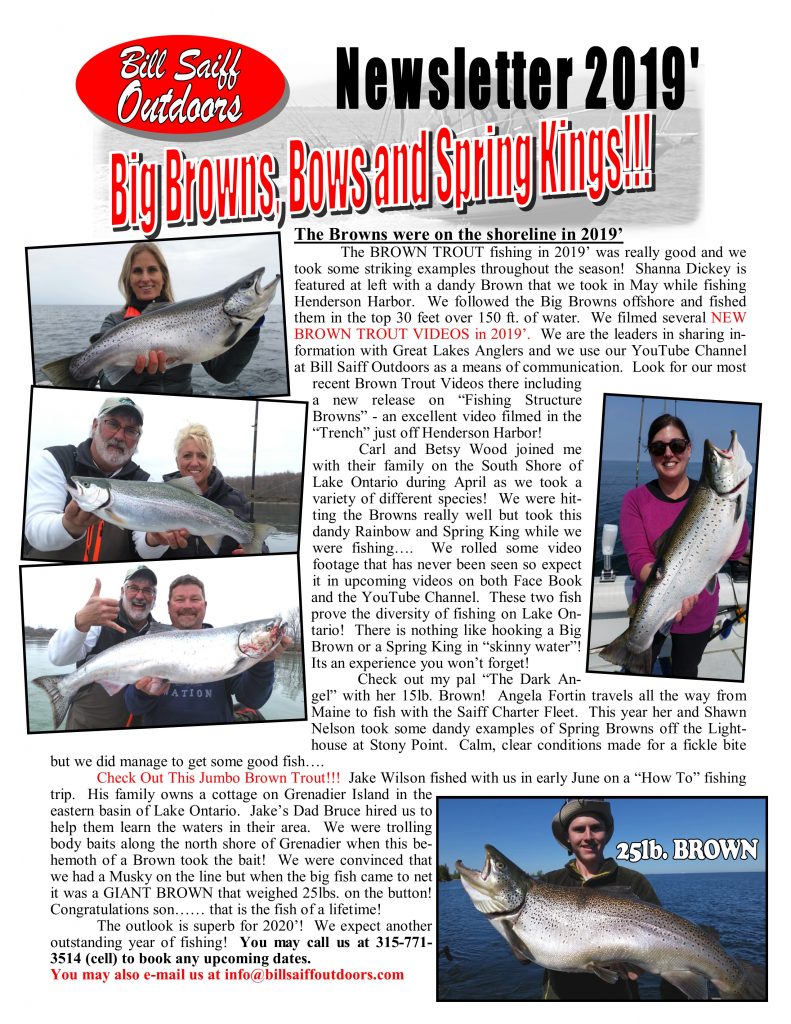 The months of January through March are the key months to secure your fishing or hunting dates for the upcoming season.
The BSO TEAM always spends a great deal of time in the off season, working with clients to ensure that they get the best possible dates. For over 38 years, our team has "under sold" and "over delivered" in the fishing market known as GREAT LAKES FISHING! The Eastern Basin of Lake Ontario is what we refer to as our "Home Waters" and nobody understands this part of Lake Ontario better than the Saiff Charter Fleet!
We have incredible Warm and Cold water fishing opportunities. When angling for warm water species, our clients can experience Walleye, Northern Pike, Smallmouth Bass, Pickerel, Perch and a host of other warm water species. When an angler comes looking for cold water species, we can offer Lake Trout, Brown Trout, King Salmon, Coho Salmon, Steelhead and the occasional Atlantic Salmon. Everyone looks at a BIG FISH PICTURE and says: "I'd like to catch that". When its time to book a trip, you must ask yourself the important questions: What is my available time frame? Can I fish during the week or must it be a weekend date? Will I be willing to fish all day for a few trophy sized fish? Is fishing action the most important aspect of my trip? Who are the people that will be accompanying me on this outing? What are their fishing desires? What species of fish are most important to me? etc….. At BSO – we refuse to tell customers what they want to hear just to sell a date! If you propose something that can't be done – "we'll tell you"! We have found that if you base your expectations on SOLID FACT, you are rarely disappointed.
Our mission is to listen to your needs and then match you with the correct Captain and Time Frame to give you the best chance to succeed. Our recommendation is to always call us early enough that we can work the calendar to your benefit. Please don't worry about food or lodging as we have Bill Saiff's WESTVIEW LODGE at our disposal where we have nominally priced rooms and amazing food. Of course, this is located conveniently across the street from where we pick our customers up with the boats. Lets get a big fish on the line for you this season! Call us at 315-771-3514 and we will help you with all your needs. This is my personal cell so if we don't answer, please drop us a text message and we will get right back to you. Thank You for your patronage, Capt Bill Saiff III