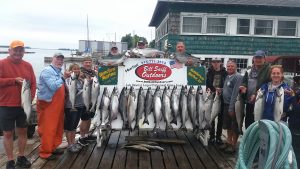 In 36 years of professional outfitting, we have never seen King Salmon fishing better than it is starting out in 2018′  The combination of  strong bait fish populations, temperature and an over abundance of "naturally reproduced" Salmon has led to fishing conditions that rival the BEST we have ever seen!
There are two time frames that really exhibit the very best in King Salmon fishing.  The first is what we refer to as the "Hot Zone" period.  This time frame represents the last week of June through the month of July!  The "Hot Zone" features bright silver Kings from every year class.  Angler's could take a 25 lb. fish followed immediately by a King that weighs in at 12 pounds.  Kings have to eat every day during the "Hot Zone".  This is why they achieve 30 lb.+ weights in just 3 1/2 years!  This is good news for the travelling angler.  When  Kings are hungry, they are easier to catch and they will take a myriad of different trolled offerings.  The Saiff Charter Fleet has always been a leader in spoon fishing techniques so we employ Michigan Stinger, Northern King and Moonshine spoons to take these big fish.  We also use flasher/fly combinations to entice Kings at this time of year.  We work very hard to stay on the "cutting edge" of what's best in the marketplace.  Currently, we are field testing a "lighted flasher" by Pro-Troll.  When this new E-Chip flasher is lowered into the water, the water's connectivity activates a strobing LED light located in the center of the flasher.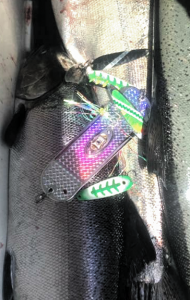 We have enjoyed some tremendous success in early morning situations as well as on darker fishing days.  The photo above shows a typical Silver/Green combination of Flashers and Spoons that would be used on a typical trolling day.
The second time frame that we target for Kings is from mid-August through mid-September.  This time frame is known as the "Staging Period".  This time of year probably gets more press than any other fishing period.  Late in the season these fish return to stage off the mouths of the tributaries where they were stocked or spawned.  Generally these big fish with locate in 80-150 ft. of water in front of these river mouths waiting for a drop in temperature or an increase in river flow.  When the big fish come shoreward, they are more easily accessed by all sizes of fishing vessels.  Consequently, the "Staging Period" also comes with an increase in angling pressure.   Fish during this time frame will usually be 3 1/2 years of age.  Often, the biggest fish of the season are taken during this late summer period.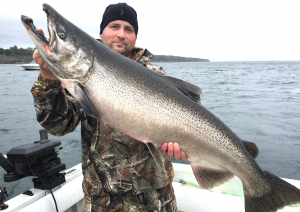 Here is a classic example of what we would consider a "Mega King".  This Jumbo was taken by Christopher Boyer in early September.  Notice the close proximity to land!  The Saiff Fleet was working the area known as the "Trench" just outside Henderson Harbor when this big brute struck a Flasher/Fly combination.  Weather conditions late in the season can be a bit inclement so bring the Dramamine and the rain gear so that you are totally prepared!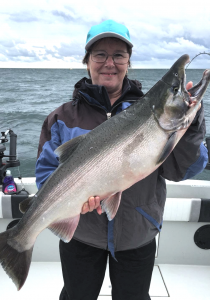 The photo above is of Chris Boyer's mom Wendy Hess.  She is holding and absolutely enormous Coho Salmon that was taken on the very same trip!  I am including this photo because late season angler's need to know that Lake Ontario holds the largest Coho Salmon in the world.  Lake Ontario has been growing the biggest Coho's for many years!  The World Record comes from the waters of the Salmon River in Pulaski, NY which is located just 20 minutes from our lodge in Henderson Harbor!
We are in the middle of "Hot Zone" fishing right now and the Staging opportunities are just around the corner.  If you have ever entertained the idea of angling for these brutes – "Now is the time"!  Call us at 315-771-3514 and we will help you schedule a GREAT fishing trip!  We are fishing every day at this time of year so if we don't answer, shoot us a text and we will call you when we get off the water!
Capt. Bill Saiff III – Owner Bill Saiff Outdoors