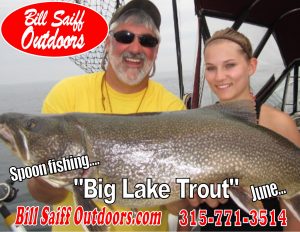 The eastern basin of Lake Ontario is one of the most diverse fisheries in the world but it is certainly punctuated by the GREAT Lake Trout fishing that is found here.  During the 2016′ fishing season, the Saiff Charter Fleet had more requests for dedicated Lake Trout trips than in any other year.  We think the reason is that: Anglers in North America are realizing that Lake Ontario's Lake Trout fishery is among the best in the world!  Why is Lake Trout fishing so good in the eastern basin?  The answer is that there is better geographic structure here than in any other part of the lake.   The eastern basin is a nutrient rich, bait rich, structure filled piece of the Lake Ontario pie that these big trout can't resist.
June is an exceptional month to pursue these big fish.  The Saiff Charter Fleet pursues and catches these Big Lakers throughout the season but June represents a time frame when the fish are still relatively shallow.  The water is still generally cool during the month of June which means that its closer to the Big Trout's preferred temperature.  When Big Lakers are in cold water, the fight is tremendous.  These fish exhibit and aggressive tenacity which translates into great sport for the angler.  An added bonus is that the table fare of cold water Lakers is also exceptional.  The fishing during this time period can be very fast which also gives the angler an opportunity to pursue other species of fish!  The Saiff Fleet's hallmark has always been an "8-hour line in the water" fishing day!  We are and have always been great value to the discriminating fisherman.  The month of June can be a great time to take Brown Trout or Small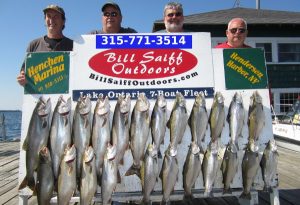 Mouth Bass in addition to these Big Lakers.   The photo above is a perfect example of one of these COMBO fishing trips during June.  In the early morning, anglers worked the structure along the back side of Galloo Island in pursuit of Brown Trout.  After achieving a limit of Browns, we picked up the rods and ran another 3 miles to the edge of the Shipping Lane Channel.  Once on location we employed downriggers loaded with bare spoon presentations to take the Lake Trout stratified there.
Catching these Big Lakers on bare spoons allows anglers to experience the full fight of this great cold water species.  Anglers should remember; Lake Trout during this time frame will average between 8 and 13 lbs however, examples between 15 and 25 lbs will be taken on a daily basis.  When a 20 lb.+ Lake Trout is hooked, it will provide a fight the fisherman will never forget.  Let us show you what this is all about during the 2017′ fishing season!