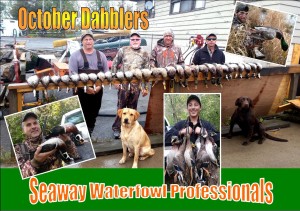 We have just finished an "EPIC" September Goose Season with well over 1,000 birds harvested by clients from 16 states.  Saturday October 7th marks the beginning of the early ducks season!  Our early ducks season is highlighted by opportunities for Mallards, Black Ducks, Green Winged-Teal and Wood Ducks.  Those sportsmen wishing to venture into the Perch River WMA can also expect to gun Widgeon, Shovelers, Pintail, Blue Winged-Teal, Ringnecks, Gadwall and a host of other ducks….. The SWP Team manages marshes and wetland impoundments in 3 counties here in Northern New York.  Our early season hunts are legendary in waterfowl circles.  The early duck season with occur from October 7th through October 29th.  Keep in mind that MIGRATORY CANADA GOOSE opens on October 28th and runs through the end of the season.  This year duck is closed from October 29th through November 3rd (Goose will be open during this split) .  Duck will re-open on November 4th and continue through December 10th.  Hunters coming in this fall should know these facts concerning how things are "shaping up".  Every season is different depending on climate and farming practices.  This year CORN MOISTURE was extremely high (the summer was quite wet).  Its the beginning of October and the corn is just beginning to be harvested.  While this made things dicey on our September Goose hunts it bodes very well for hunting during the MIGRATORY GOOSE season.  As stated, this season opens on October 28th and the SWP Team believes that the 1st two weeks of this season should be "LIGHTS OUT" on Canada Geese!  Expect to see thousands of birds on this migratory hunt.  The limits are not as liberal during the migratory hunt but the birds are much wiser!  A 20 bird shoot in early November is like killing 45 geese during the regular season.  When duck season coincides with a late hunt for Canada's, there is always the opportunity to take ducks in the field – along with the geese!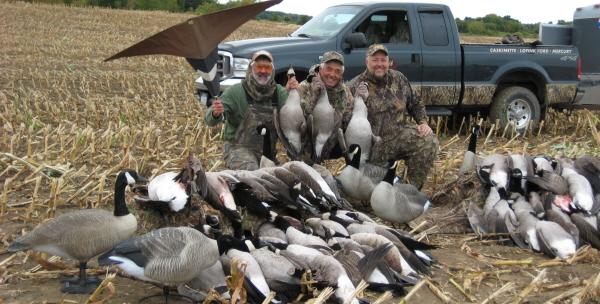 As November approaches, hunters will enjoy continued opportunities at ducks in the back country but they will also be able to ply the open waters of Lake Ontario and the St. Lawrence River for ducks.  Our guides are true WATERMEN who understand what it takes to gun the "Big Water".  This is one of my favorite types of hunt and its how the SWP Team "cut it's teeth" in guiding"!  We have 3 20ft+ duck boats at our disposal that we will run from early November until the end of the season!  We can target both Dabblers and Divers from these rigs.  On many days, our hunters will experience a mix of both types of ducks.  This diversity allows us to take upwards of 21 different species of ducks and geese in a single season.  Bluebills and Goldeneye strafing the rig in the early morning light is the epitome of 2nd season duck hunting.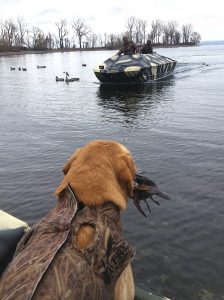 Watch for an upcoming episode of Brad Lockwood's "Love of the Hunt" (as seen on the Pursuit Network).  Last year, Brad and his wife Sherri enjoyed a classic hunt for dabblers and divers with the SWP Team.  The duo harvested a combination of Bluebills, Bufflehead and Mallards as they rolled video for their television series.  Brad is known as a Big Game hunter but when he chooses to pursue waterfowl, he comes to film with the SEAWAY TEAM!
There are a few dates that we can still accommodate for this upcoming season.  The Seaway Region of NYS is a "Crown Jewel" in Atlantic Flyway duck and goose hunting.  The Bill Saiff Outdoor operation is "One Stop Shopping" for the discriminating waterfowler.  We offer lodging, dining and a full service bar at Bill Saiff's WESTVIEW LODGE which is located on the shores of Henderson Harbor.  Henderson Harbor, NY is the home port for our fishing fleet and all of our duck and goose hunting.  Our clients love the fact that "Once they arrive- they never have to go anywhere else"!  We have clean comfortable rooms, Wi-Fi, great Steaks, Seafood, Italian Dishes and a bar fully stocked with appropriate liquors as well as an array of Craft Beers on tap.  What more could any sportsman ask for?  Check us out this fall and book your trip by calling 315-771-3514!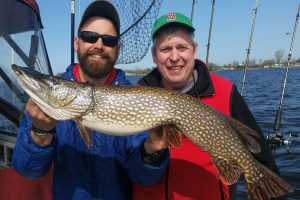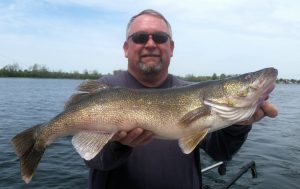 Fall of 2017′ – We will be fishing with our clients through the end of October this season!  I will be handling many of these fishing trips personally!  Fall is a fabulous time to target Walleye, Pike and Smallmouth Bass.  We have them all and the sizes are "World Class"!  Don't miss the opportunity to sample a "Cast and Blast" – the opportunities are boundless!  Capt. Bill Saiff III