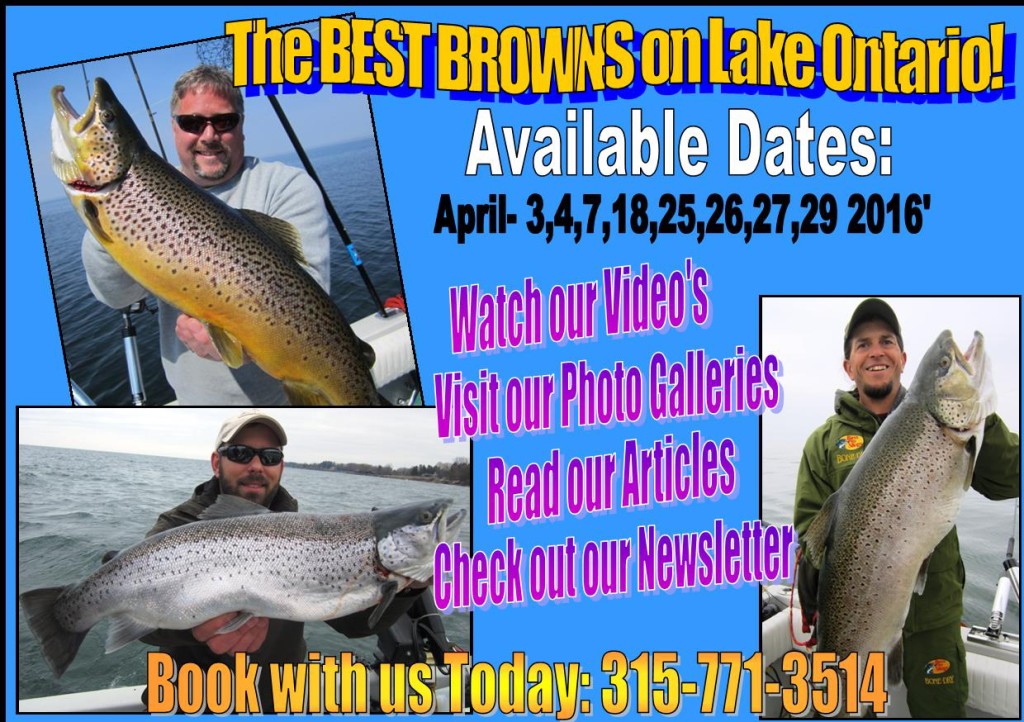 The Saiff Charter Team is known for its fishing productivity on BIG Spring Browns.  For 21 years the Saiff Charter Team has operated its Brown Trout Lodge on the south shore of Lake Ontario.  We travel here during the spring of the year as we wait for our waters in Henderson Harbor (our home port) to warm.  Our lodge is in Sodus Pt. NY but we berth the Saiff Charter#5 in Pultneyville, NY.
P-Ville represents the perfect place to catch Big Spring Browns.  The port is half way between Sodus Pt. and Irondequoit Bay so fishing pressure is light but the waters are loaded with Browns.  The Ginna nuclear plant's warm water discharge is also a huge calling card for spring fish.  The Round Gobi minnow and huge schools of Alewives always hit this stretch of shoreline first.
The Saiff Fleet is instrumental in the dispensation of great fishing information.  Our Captain's have their finger on the pulse of the latest techniques and are virtual encyclopedias of fishing information.  They are experts at pattern building, bait selection and their "on the water" coordination helps them quickly refine the most productive approach for the day.  Our group has 35 yrs. of experience fishing on Lake Ontario and spring Browns is an area in which we excel.
We expect an early spring in 2016.  Currently our 1st trip is scheduled for Saturday April 2nd.  The dates listed above are still available and we would like to book them before travelling to our next sport show.  A $100.00 deposit holds the date and the balance is due when you arrive to fish.  April clients lodge with us in NEW Modular Log Home on Sodus, Pt.  Like our trips in Henderson Harbor – everything is located within walking distance.  Offshore breezes at this time of year can make fishing the south shore quite temperate.  It's a trip will really enjoy!  We look forward to answering any of your questions about south shore Brown Trout fishing.  Capt. Bill Saiff III