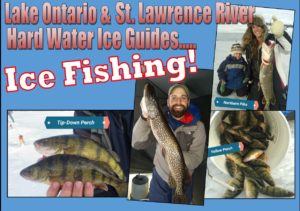 Ice Fishing with Bill Saiff Outdoors is just around the corner!  Our Ice Fishing side of the business is called "HardWater Ice Guides" and we ply the waters of eastern Lake Ontario and the bays and harbors of the Mighty St. Lawrence River.  While we concentrate on Yellow Perch, we also catch lots of Northern Pike and Pickerel.  Our team provides everything that you need for a successful day on the ice.  Our equipment includes:
Snowmobiles, ATV's, Gas Augers, Lithium Ion Augers, Vexilar Sonar, Underwater Camera, Jigging Rods, Tip-Downs, Tip- Ups, all tackle and the finest in double hub shelters with heaters.
Our team members are life long residents of this region and know the back bays and harbors intimately.  We have also secured private access to the ABSOLUTE BEST fishing locations.  Our ice fishing contacts are spread throughout this region so when a Hot Bite occurs – we find out about it immediately.  The cost of our Ice Fishing Adventures is $150.00 per person/per day.  Those booking before the end of January will receive the discount price of $125.00 per person.  Our regular customers love this trip!  Like our Waterfowl hunts and our Open Water fishing excursions, "This is a social occasion"!  All the angler needs to bring is his or her warm clothes and we will take care of the rest.  The action is fast, the table fare is excellent and a great time will be had by all.
For more information or to book your next ice adventure, contact us at 315-771-3514.  We will help you select a date and then we will make arrangements for you to stay at our WESTVIEW LODGE in Henderson Harbor.  You will enjoy clean, comfortable rooms, flat screen TV's, WiFi and a full service restaurant and bar located downstairs.  Rooms are just $55 (winter rates) during ice season.  We look forward to spending some time on the ice with you this season.
Capt. Bill Saiff III